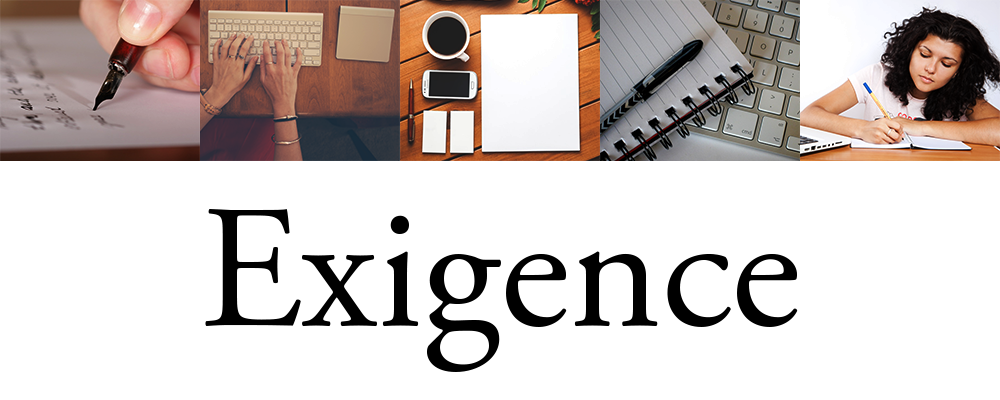 Volume 1, Issue 1 (2017)
Editor's Note
Hello and welcome to the inaugural issue of Exigence.
I am truly honored to recognize the hard work of the rising scholars across the Virginia Community College System (VCCS). One of the most rewarding aspects of instruction for me is exposure to students' compelling research arguments. These well-crafted essays are the products of countless hours of research, writing, revising, and editing, yet they rarely leave our classrooms. To give students across the VCCS an outlet to reach a real, worldwide audience, foster discussion of exigent community issues, and promote conversation among students enrolled in all 23 VCCS institutions, we formed this grant-funded, refereed online student journal for academic writing.
As you will see in these accepted submissions, our students across the curriculum are engaged in scholarly work that demonstrates a high level of critical thinking and analysis. I am very proud of these authors and all of their fellow classmates across the state for embracing their role as blossoming scholars and writing phenomenal research essays. These articles are scholarly conversations on current, significant issues reflective of the diverse student population across Virginia's community colleges.
We had over 60 submissions for this first issue, and though the selection process was time consuming, arduous, and quite difficult, we hope that Exigence will encourage ongoing discourse among faculty and staff across the VCCS.
I want to thank all of the Exigence staff for their hard work in helping this first issue come to fruition. Managing Editor Paul Brown has put countless hours into this journal. From the early planning stages to the final publication, he has been a vocal leader, a collaborator, and a true asset for this project. The editorial reviewers spent a lot of time reading very strong student works and offering their feedback to both the editors and students; their expertise was invaluable as the published articles were chosen. Thank you in particular to Holly Foster, Dianne Stanbach, Becky Anderson, Bethany Arnold, Derek Whisman, and Amy Coren for your thorough and timely reviews.
Many thanks as well to the VCCS Office of Professional Development, VCCS Library Services, and all across the VCCS who helped make Exigence a reality. Dr. Abigail Stonerock, Director of Faculty Development, has been championing the journal for quite a long time and providing any and all support needed to ensure its publication. Nancy Harris, Sandy Gharib, Gareth Bromser-Kloeden, and Tara Cassidy have answered many questions, helped with the journal design, managed this incredible Digital Commons repository, sent out calls for submissions, and completed just about every task necessary to help support Exigence.
I would be remiss not to thank Adam Lloyd, Linda Macri, and all of my friends and classmates from the University of Maryland. My exposure to Interpolations, a journal for first-year academic writing at the University of Maryland, had a profound influence on Exigence.
Thank you also to all readers of Exigence. We appreciate your time, and we hope that you enjoy these research essays composed by the VCCS's finest.
Thomas M. Geary, PhD
Articles