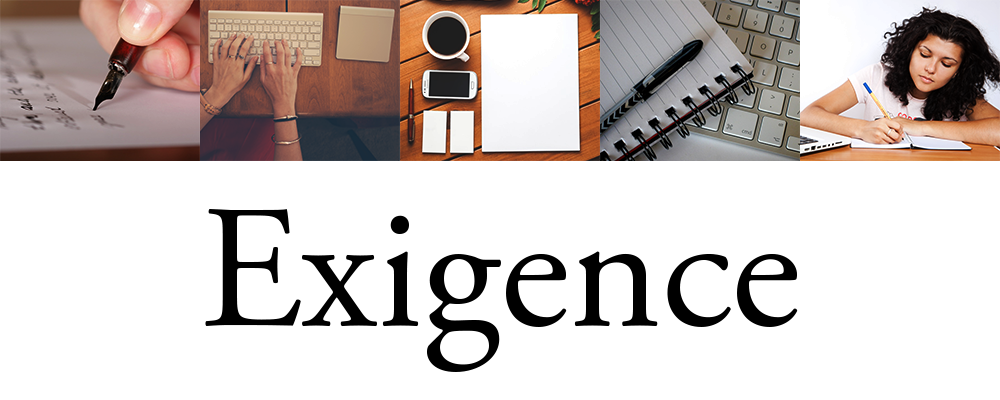 Editor's Note
Hello and welcome to Vol. 2, Issue 1 of Exigence, the Virginia Community College System (VCCS) journal for student academic writing.
This second publication of the journal has been a long time in the making. Despite never having sent out a formal Call for Papers, we continued to receive countless submissions from enthusiastic scholars across the VCCS who wanted to share their fascinating research with readers like you. As you are aware from reading these submissions, their work is exceptional. Students at several institutions across the state labored intensively on these reports, arguments, and lab experiments, from researching and composition to several revisions for publication. Some works seen in this issue were rejected for Vol. 1, Issue 1; to see these projects revamped, polished, and strengthened and then accepted is a testament to the hard work of our developing scholars and the faculty and staff who work closely alongside them to help them develop as academic writers. I could not be more proud of these authors who are now published to Exigence.
Since the inception of this journal, a shared goal of the editorial staff and all who have supported Exigence has been to disseminate the compelling, exigent academic essays of our diverse student body to fellow students, to faculty, staff, and administrators across the state, and to fellow scholars and interested readers worldwide. It has been humbling to watch the interactive map on our home page update with readers across the world. Volume 1, Issue 1 has 1,615 total downloads as of Feb. 21, 2018. These students' thoughtful compositions could have received a grade and never been seen again; instead, they will continue to reach readers like you and spark conversations for years to come.
Many thanks are in order as we celebrate the launch of Volume 2, Issue 1. Paul Brown, Managing Editor, has been instrumental in the success of Exigence since its inception. His close readings and careful, thoughtful feedback on submissions as well as his visions for the journal and many hours of hard work are most appreciated, and I'm grateful to have such a collaborator and colleague. The remaining editors on staff have gracefully offered their assistance and expertise, and I also want to recognize their efforts.
Walerian Majewski has been a vocal advocate of Exigence whose continued efforts to promote the journal statewide are truly appreciated. Piraba Swaminathan, Diane Critchfield, and many other faculty statewide have also been advocates for the journal whose students continue to submit stellar work. The VCCS Office of Professional Development, VCCS Library Services, Chancellor Glenn DuBois, Tidewater Community College Executive Vice President Daniel DeMarte, Nancy Harris, Sandy Gharib, Tara Cassidy, and many others have championed Exigence and offered support in ensuring its continuous publication. Thank you to the Computers & Writing conference and the VCCS New Horizons conference for granting us the opportunity to present this journal as an avenue to share undergraduate research. And thank you to the Digital Commons for this beautiful, intuitive repository.
Most of all, thank you to all the community college students who strive to engage others in research-based academic writing. You are an inspiration to us all.
Articles