Volume 25, Number 2 (2022) A Lasting Legacy Pt. 2
Published by the Virginia Community College System. Copyright 2022 © All rights reserved. No portion of this journal may be reproduced without written permission from the Managing Editor.
This special edition part 2 features the speeches and writings of VCCS Chancellor Glenn DuBois. Read part 1 here.
Articles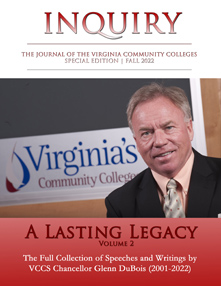 Managing Editor
Thomas M. Geary, Ph.D., Tidewater Community College
Cover Art
Image of VCCS Chancellor Emeritus Glenn DuBois